Date: May 25, 2021
Have you registered for gLOCAL Evaluation Week yet? It begins in less than a week! And, this year, you can attend from your couch, anywhere around the world. For free! Khulisa will be hosting a 2-hour online skills-building workshop on June 1, from 14h00 – 16h00 SAST. Our topic: How to analyze WhatsApp data to answer evaluation questions.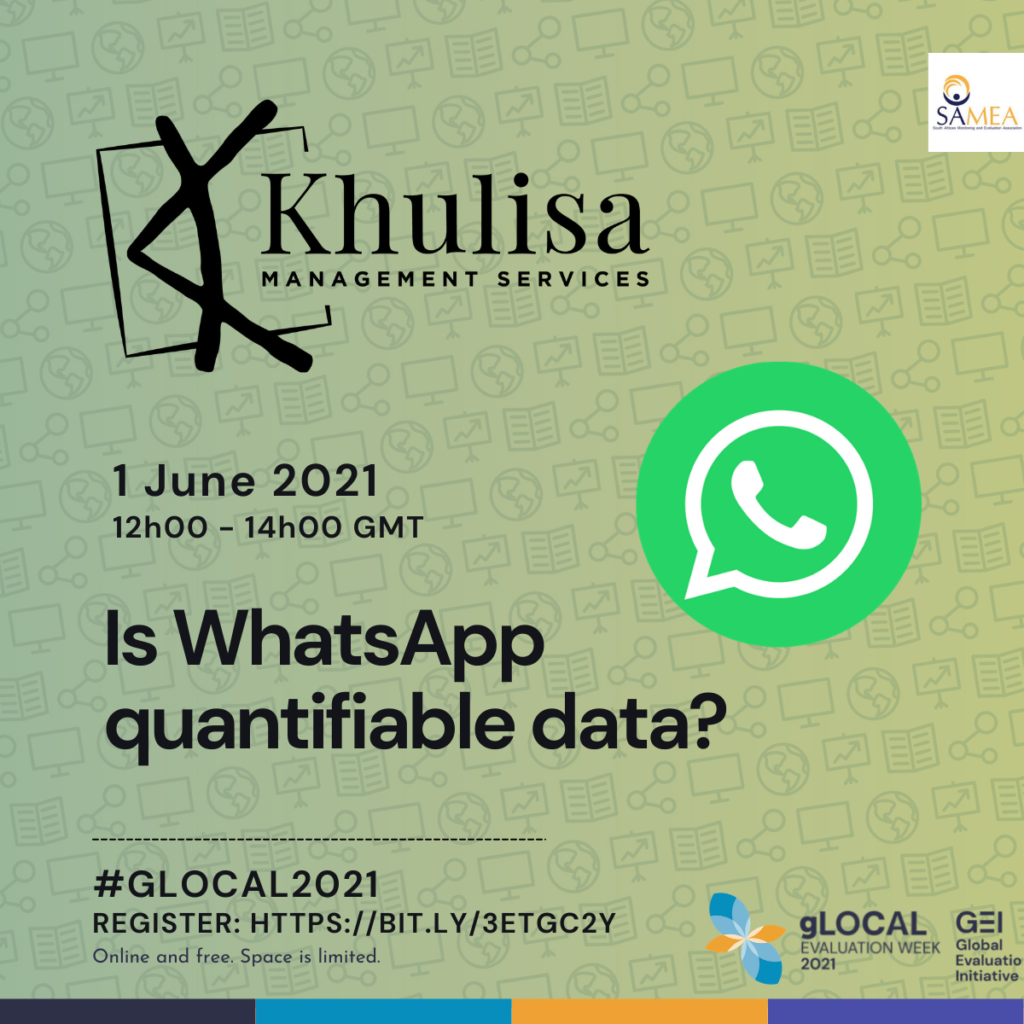 Join us as we share our experiences on analyzing WhatsApp data and provide evaluative guide lines. We look forward to hearing more about how you or your organization have worked with data from similar social sites. See you there!
How to Register?
Register on the gLOCAL events page at https://bit.ly/3eTgc2y , for a link to our Zoom Webinar. There are only a limited amount of seats available!
What Else to Watch Out for?
SAMEA is participating in four gLOCAL events:
May 31 (8h00 GMT) Building evaluation capacity in South Africa: gLOCAL concerns and efforts
June 1 (11h00 GMT) Supporting Emergent Evaluators to learn, grow and contribute: Walking the talk
June 4 (11h00 GMT) Panel discussion on evidence-based decision making in the Western Cape, challenges and changes since the start of the COVID-19 pandemic
June 4 (9h00 GMT) Demonstration of Gauteng Province Covid-19 Visual Analytics Tool
To register for these free webinars and more, go to https://glocalevalweek.org/

What is gLOCAL?
gLOCAL Evaluation Week is a platform for evaluators to share knowledge, build capacity, and network. The theme for gLOCAL 2021 is "building forward better".